English pair impress with high jump silver and 5000m bronze medals
There was plenty of medal success for England to celebrate on the final day of track and field competition on the Gold Coast, with Morgan Lake coming close to Commonwealth high jump gold before Laura Weightman impressively landed bronze in her first championship 5000m.
The high jump battle came down to a contest between the impressive Lake and Levern Spencer, the only two competitors who were able to clear 1.93m. The St Lucian put the pressure on with a first-time clearance at 1.95m and, with Lake unable to match her, asked for the bar to be raised a further two centimetres as she set her sights on the top prize.
Both of the young Englishwoman's efforts were unsuccessful, however, with Spencer claiming top spot on the podium. However, Lake was thrilled with her achievement.
"It's my first championship medal and it's silver," said the World Indoor Championships fourth-placer who has a personal best of 1.96m. "I'm definitely happy with that.
"Although the height wasn't quite what I wanted it to be, I feel I competed well. I was comfortable in the environment, which gives me confidence for the future."
Australia's Nicola McDermott landed bronze with a personal best 1.91m, while Scotland's Nikki Manson was 7th with 1.84m in her first international championships. England's Bethan Partridge was one place behind after clearing the same height, while Northern Ireland's Sommer Lecky was 10th with a best of 1.80m.
On the track, Weightman produced a calm and controlled performance to find her way on to the podium.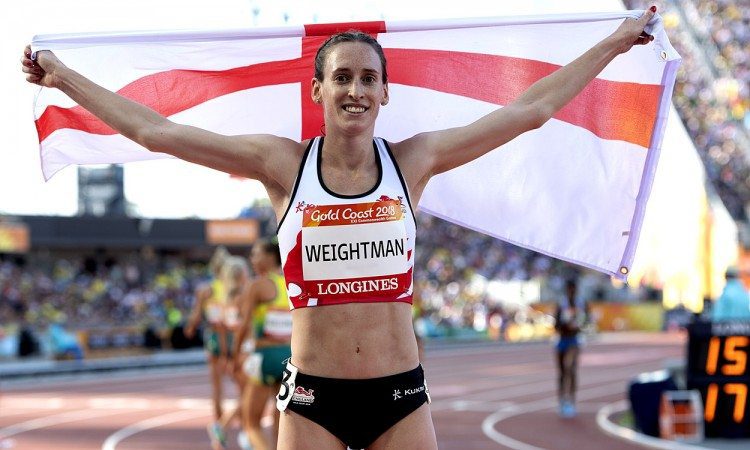 After a slow start, it was the Kenyan duo of world champion Hellen Obiri and Margaret Kipkemboi who began to crank up the pace and pull away in the hot conditions, followed by Uganda's Juliet Chekwel.
The chasing pack were some way adrift but, with the contest for gold coming down to the Kenyans, Weightman set about reeling in her opponent. The Englishwoman, a Commonwealth medallist at 1500m and much more used to contesting the shorter distance, stormed into third place in the finishing straight and convincingly claimed another prize to add to her collection with a time of 15:25.84, Chekwel clocking 15:30.17. Obiri won in 15:13.11, pushed all the way by Kipkemboi's 15:15.28.
For the other home nations athletes, the exertions of contesting the 1500m earlier in the week looked to have taken their toll.
Scotland's Eilish McColgan finished sixth in 15:34.88, 1500m bronze medallist Melissa Courtney was ninth for Wales in 15:46.60, while Northern Ireland's Emma Mitchell ran 16:02.80 for 13th, one place ahead of Scot Steph Twell's 16:05.65. Guernsey's Sarah Mercier ran 17:00.52 for 16th.
It was a day to remember for Weightman, though. Asked why she had opted to run the 5000m over the 1500m, the Steve Cram-coached athlete said: "I'm asking myself that question with the pain I'm in currently!
"I fancied a challenge, I fancied something different. I've been doing 1500m since I was 21 at London 2012 so I just thought this was the year to try a championships 5000m. I really wanted to test myself and do something a bit different and I'm really pleased I came here and did that because I think I really had to test myself physically and mentally there.
"I'm absolutely delighted to get a bronze medal. I'm going back to 1500m for this summer – it's a little bit long for me right now."
A day which had begun with English relay medal success didn't end that way, unfortunately, with the women's 4x400m line-up just being edged out of a bronze medal.
Jamaica landed gold with a time of 3:24.00, followed by Nigeria in 3:25.29, while a national record of 3:26.86 from Botswana denied the English quartet of Anyika Onuora, Finette Agyapong, Perri Shakes-Drayton and Emily Diamond, who ran 3:27.21.
There was a national record too for the Scottish line-up of Zoey Clark, Kirsten McAslan, Lynsey Sharp and Eildh Doyle which finished sixth in a time of 3:29.18.
» See the April 12 and 19 editions of AW magazine for in-depth event-by-event coverage from the Gold Coast Games