Brit takes to the roads on Sunday in a race that features defending champions Tigst Assefa and Eliud Kipchoge
Charlotte Purdue hopes to get her marathon career back on track with a great run at the BWM Berlin Marathon on Sunday (Sept 24).
The 32-year-old ran 2:23:26 at the 2021 London Marathon and 2:25:26 at the hilly Boston Marathon in 2022, but she was unable to finish last year's World Championships in Eugene due to breathing problems and was a late withdrawal from the London Marathon in October due to illness.
At the start of this year she struggled with injuries when training in Australia, but showed a return to form with 69:36 in warm conditions and largely running alone at the Great North Run earlier this month.
"I didn't want to dig a hole for myself as I'm running Berlin Marathon," she told AW after finishing third in South Shields.
"I had a bit of a rough start to the year and haven't raced much but I knew going to Font Romeu to train I'd get into good shape and I've come back in good shape," she added.
Purdue's 2:23:26 at London in 2021 put her No.3 on the UK all-time rankings at the time behind Paula Radcliffe's 2:15:25 and Mara Yamauchi's 2:23:12 although she now ranks No.4 as Jess Piasecki clocked 2:22:25 in 2022.
Purdue's World Championships experience in Eugene did not go well, however, as she withdrew at 19km and she tested positive for Covid the day after her race. On the eve of London 12 months ago she was then hit with food poisoning or a virus.
"My body was really wrecked and I had to take some time off," she says. "Then I had two injuries at the start of this year in Australia. I feel pretty good now, though, so I'm taking the good with the bad and hoping for a good race in Berlin."
Purdue will be trying to put down a marker for Olympic selection this weekend. The qualifying standard is 2:26:50 but it might take more than that to make the GB team for Paris.
Her quest for selection also follows the disappointment of being overlooked for the Tokyo Olympics.
"I always seem to run alone in London Marathon at the end so I'm hoping to have someone to run with to the finish in Berlin," she says. "Hopefully that will help!
"It's always tough doing a marathon build-up and you never know how it's going to go and I try not to compare it to other build-ups. This one has gone well, though, so I'm looking forward to a good race."
View this post on Instagram
Tigst Assefa leads the women's entries in Berlin with the 29-year-old defending a title she won in 2022 in an Ethiopian record of 2:15:37.
Assefa's performance was also the third fastest marathon in history by a woman as the former 800m runner took an incredible 18 minutes off her PB.
Also in the women's race on Sunday is Sheila Chepkirui of Kenya (2:17:29 PB), Tigist Abayechew of Ethiopia (2:18:03), Workenesh Edesa of Ethiopia (2:18:51), Hiwot Gebrekidan of Ethiopia (2:19:10) and Hitomi Niiya of Japan (2:19:24).
In the men's race all eyes will be on Eliud Kipchoge. The double Olympic champion from Kenya has twice broken the world record in Berlin, including last year when he clocked 2:01:09.
"I have been putting in the work together with the team, doing all my training and trusting the process," the 38-year-old said. "I am ready to go back to my special place, back to Berlin to take on the challenge again."
Sign up for one of the @adidasrunning virtual Berlin Marathon races today 💥

✅ You can sign up for 5km/10km/21km
✅ Race finishers get an exclusive awards package
✅ You'll also be a part of a raffle for a VIP trip to run at the 2024 Berlin Marathonhttps://t.co/0XvcUz6fEl

— AW (@AthleticsWeekly) September 13, 2023
Kipchoge has won in Berlin four times but is coming off an underpar run in the Boston Marathon in April where he finished sixth.
Opposition on Sunday includes Amos Kipruto, a fellow Kenyan who finished runner-up to Kipchoge in 2:03:13 in Tokyo last year.
READ MORE: 2022 Berlin Marathon coverage
Look out too for Jonathan Maiyo of Kenya (2:04:56 PB), Eliud Kiptanui of Kenya (2:05:21), Ghirmay Ghebreslassie of Eritrea (2:05:34), Ronald Korir of Kenya (2:05:37), Tadu Abate of Ethiopia (2:05:38), Philemon Kiplimo of Kenya (2:05:44), Enock Onchari of Kenya (2:05:47), Mark Korir of Kenya (2:05:49), Andualem Shiferaw of Ethiopia (2:05:52) and Haftu Teklu of Ethiopia (2:05:53).
German hopes rest with Amanal Petros, who will be hoping to improve his national record of 2:06:27.
Further Brits in action in Berlin, meanwhile, include Louise Small, Anya Culling, Weynay Ghebresilasie, Luke Caldwell, Rachel Hodgkinson and Emma Styles.
In total there are 45,000 entries for the 49th edition of the race.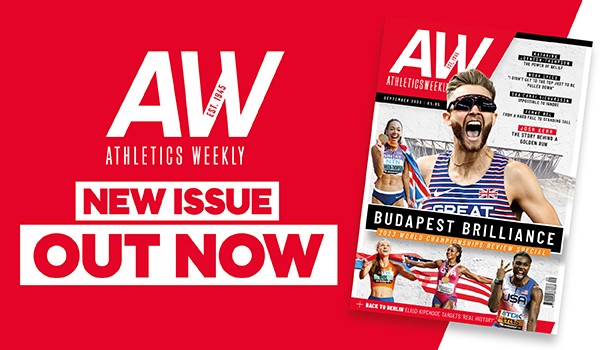 » Special offer – buy our World Champs review issue for only £1 here
» Complete a virtual race and possibly win two bibs for the 2024 Berlin Marathon, through the adidas Running Run Tracker App here