World Cross champion takes over from Mo Farah as winner of global 25-lap gold
With a great tactical run and a withering 55-second last lap, 2:27 final kilometre and a 13:14 second half, world cross-country champion Joshua Cheptegei claimed the world 10,000m crown to go one better than in 2017.
The Ugandan 23-year-old had to work hard though to beat world indoor mile record-holder Yomif Kejelcha who pushed him all the way on a pulsating last lap which had the capacity crowd roaring.
But Cheptegei showed he had learned from his loss to Mo Farah in London by using his tactics.
Abdallah Kibet Mande of Uganda set the early pace of around 65 seconds a lap, passing 1000m in 2:43.67 and 2000m in 5:27.24 and the whole field was still together but spread over 25 metres.
After seven minutes of running, Rhonex Kipruto surged to the front and ran a couple of 63-second laps to shake up the field and as he passed 3000m in 8:08.23 the lead pack was down to 18 runners. All the main contenders were up at the front with the group spread over four seconds.
The pace slowed a little through 4000m with Kipruto still ahead in 10:52.38 just ahead of his countryman Rodgers Kwemoi and the pack was now down to 16.
The fifth kilometre was a little quicker and at halfway Kipruto (13:33.20) led from Kwemoi (13:33.43) and Adamlak Belihu (13:33.92) to make up the leading trio and the pack was now numbering 11 with the only European in the group, Yemane Crippa, at the back.
Cheptegei was ahead at 6km in 16:16.13 with that kilometre maintaining the 65-second a lap average pace and the lead group still numbered 11.
The pace was not quick enough for Kipruto so he pushed the seventh kilometre harder and upped the pace to 64 seconds a lap and at 7000m in 18:56.85 it was now down to eight as Shadrack Kipchirchir, Alex Korio and Crippa had to let go.
So the battle for medals was now down to three Ethiopians (Belihu, Hagos Gebrhiwet and Kejecha, one Ugandan (Cheptegei), two Kenyans (Kipruto and Kwemoi), one American (Lopez Lomong) and one Canadian (Mo Ahmed).
The pace dropped again at 8km (21:40.16) and the eight stayed together and all looked like they were in contention.
Two laps of 64 followed with Cheptegei now starting a long run for home and at 9000m he led in 24:20.79. That acceleration saw off Gebrhiwet (24:22.46) and Lomong (24:22.73).
The Ugandan continued to turn the screw with a 62.4 circuit and then a 61.25 and now it was down to three with Kejelcha and Kipruto his only remaining challengers.
Kejelcha moved wide at the bell, which the Ugandan reached in 25:52.98, and looked like he wanted to overtake but Cheptegei held him off with a 14.29. Along the back straight Kejelcha edged ahead on the outside but the Ugandan remained in control despite a punishing 13.21 100m.
Kejeclcha continued to run wide almost touching with the leader as the bend was covered in 13.76 and the mid 200 was covered in under 27 seconds.
The Ethiopian tried again in the straight but paid for the extra distance and the aggression too far out and he faded badly in the straight.
Cheptegei won in a PB and world lead of 26:48.36 with Kejelcha setting a PB 26:49.34 with Kipruto missing his by a fraction but getting the reward for doing most of the work with a bronze medal in 26:50.32.
Kwemoi set a PB in fourth (26:55.36) while in sixth Ahmed set a Canadian record 26:59.35 in sixth as the first six went inside 27 minutes
Crippa picked off a few in the closing laps to be top European and he ran a 27:10.76 Italian record to go third on the European all-time list.
Shock win for Peters
After the best ever shot contest the day before came one of the lesser quality javelin contests but that won't bother Grenada or Anderson Peters who dominated a low-key competition that failed to justify its position as the final field event of the programme.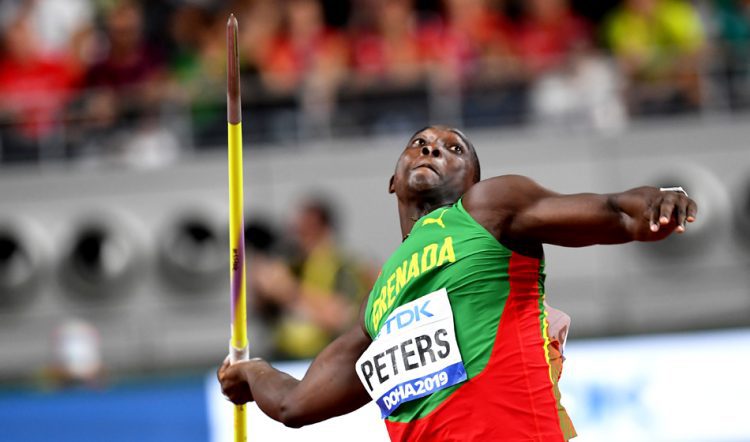 The Pan American champion opened with a 86.69m and that was only bettered by his 86.89m fourth round throw.
The 21-year-old, in his first global senior final, went two places better than he had in his previous biggest finals, the 2016 world junior championships and the 2018 Commonwealth Games.
He said: "I did not think 86m would be enough to win gold. I was up against 90-metre men throwing high 88s all season."
World leader Magnus Kirt was second with a 86.21m second round throw and had a 85.90m fourth round effort that was also better than all bar Peters.
He unfortunately injured himself badly on his fifth round throw and was unable to take his final throw.
Defending champion Johannes Vetter took bronze with a 85.37m second round throw.
There was a huge gap to the other competitors with Lassi Etelatalo was fourth with a 82.49m effort.
» Check out the dedicated Doha 2019 section on our website here.
» For more on the latest athletics news, athletics events coverage and athletics updates, check out the AW homepage and our social media channels on Twitter, Facebook and Instagram