Namibian veteran out-paces Aussie duo Weightman and Trengove in final stages as England's Samuels and Dixon finish fifth and sixth
Experience told in the women's marathon as 37-year-old Helalia Johannes of Namibia beat 39-year-old Lisa Weightman of Australia to Commonwealth Games gold.
Johannes, who was the flagbearer for her team at the opening ceremony, took control of the race between 35-40km and surged clear to win by 43 seconds in 2:32:40.
A veteran of multiple championship and city marathons, Johannes' best run prior to these Games came at London 2012 when she ran a Namibian record of 2:26:09 for 12th, while she was also fifth in the marathon at the 2014 Commonwealth Games in Glasgow.
Long-time leader Jessica Trengove, a mere youngster in comparison aged 30, held on for bronze as Sheila Jerotich of Kenya finished fourth.
"I am so excited, very surprised though," said the winner. "I just had to have courage that I'd make it.
"Six days ago I had an issue with my calf muscle and I began to doubt myself but when I stood on the start line I felt confident that I could go for it."
English duo Sonia Samuels and Alyson Dixon also showed that marathon runners often hit fine form in the twilight of their careers. Samuels, 38, finished fifth in 2:36:59 and Dixon, 39, was sixth in 2:38:19.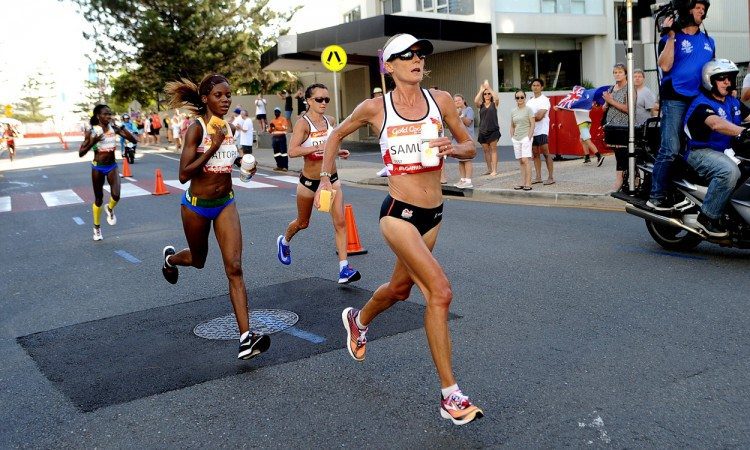 The times were adrift of their PBs but conditions were warm, the course was twisty and undulating in places and the opening stages were slow and cagey as the runners passed 5km in a modest 19:25 before later speeding up to 77:30 at halfway.
With only 17 starters, the next home nations athlete home was Caryl Jones of Wales in eighth in 2:43:58 and Elinor Kirk of Wales clocked 2:57:01 in 15th.
"Right now, I feel a bit disappointed, because I thought that if I ran my best race I could challenge for a medal," said Samuels. "I wasn't far away. The Kenyan was coming back to me, but not quick enough.
"I've got a lot of respect for the conditions and the marathon distance, that maybe I didn't quite cover the moves."
In the T54 women's wheelchair marathon, Madison de Rozario took gold in 1:44:00 after breaking away in the latter stages.
The Australian had won the T54 1500m title earlier in the Games and here she beat fellow countrywoman Eliza Ault-Connell as Jade Jones of England won bronze after her triathlon gold and Sammi Kinghorn of Scotland finished fourth after also racing over 1500m.
"It was a really good race," said Jones. "The course was flat, which suits me. A few corners but nothing too major. I really enjoyed it.
"My training going into the Games was all centred around the triathlon and the aim was to win there so whatever happened in the marathon was a bonus really. To come away with bronze is amazing, I'm really happy with it."
» See the April 12 and 19 editions of AW magazine for in-depth event-by-event coverage from the Gold Coast Games