The second winner in our Brooks competition series,  Chris O'Brien explains what makes him Run Happy
Sunday January 26, 2014 was a good day!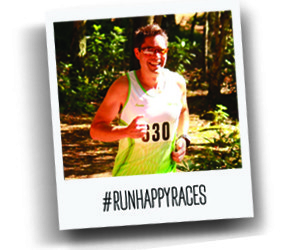 Sure, as I stood on the start line of the Romsey 5 mile at 9:45 in 5°C, I did think I was insane. The wind howling and the rain driving so hard it felt like needles on my bare arms and legs. Yes, I was that runner that easily overheats so was sporting a vest and shorts.
As I huddled closer to the middle of the group to stop my teeth from chattering and knees from knocking, I wondered whether, despite my warm-up, my legs would simply refuse to move when the gun finally went.
Once off and into my rhythm, all that changed. I cast aside the powerful gusts of wind that threatened to stop me in my tracks. I shunned the relentless downpour that added extra ounces to my otherwise lightweight kit. I even managed my signature happy smile every time I passed the photographer.
I ran into the face of the weather and won, taking one minute off my previous PB to set a time of 32:30. Yes, Sunday January 26, 2014 was a good day!
This is why I run. I run to race and when I race, I Run Happy Races!
WHAT MAKES YOU RUN HAPPY?
Brooks believes in the transformative power of the run. The run can turn a day – or a life – completely around and can flat-out change the world.
That's why each month they're rewarding one AW reader for sharing what makes them Run Happy. We want to hear all about your Run Happy experience, whether it's a first race, a new PB or a moment that changed your race around. It can be anything.
Each month we will pick our favourite story. Not only will it appear in Athletics Weekly, but the owner of that story will receive Brooks kit including footwear, a jacket and a tee.
Click here for further details and to submit your story.
On Twitter? Why not get social?! We'd love for you to share your stories and pictures on Twitter too – just tweet @AthleticsWeekly and @Brooksrunninguk using the hashtag #RUNHAPPYRACES.