England sprinter vows to give his all in 4x100m final after losing individual title through disqualification on the Gold Coast
Zharnel Hughes has described his hunger ahead of the Commonwealth Games 4x100m final, after being denied the 200m title through disqualification.
The sprinter had stormed over the finish line in first place and completed a lap of honour thinking he was the 200m champion, only to later lose the gold for a lane infringement.
Back on the Carrara Stadium track the next morning, he helped the England team secure a spot in Saturday's relay final and later reflected on the drama from the night before.
"It was a bit of a nightmare, after hearing that I'd been disqualified for something that I didn't really do," said Hughes, who clashed with eventual winner Jereem Richards of Trinidad and Tobago in the closing stages of the race.
"It was a bit hard for me considering I was disqualified because of somebody who was actually at the back of me, hitting my arm, propelling me to go forward and I stepped over. I had to get my balance and my hand happened to go over in front of him which wasn't intentional. I would never try to impede another athlete but unfortunately that's what they decided."
Hughes only learned about his disqualification when coming along the home straight on his victory lap and added: "It was a bit heartbreaking. When the official stopped me I tried to say to him that had nothing to with me, the guy (Richards) even apologised to me after the race, that's the sad thing about it. After we crossed the finish line, when he came over and hugged me he said 'hey man, I'm sorry for hitting your arm'.
"It is what it is. I wish him the best going forward as an athlete and we'll see each other again on the circuit."
"It makes me very hungry. The guys have been very supportive and I'll do my very best going forward in helping them to the best of my ability to get a medal"
Now the aim is to use that disappointment as further motivation ahead of the relay final.
"It makes me very hungry," said the 22-year-old, who combined with Reuben Arthur, Richard Kilty and Harry Aikines-Aryeetey to clock 38.15 and win the second 4x100m heat ahead of Jamaica and Nigeria on Friday morning. "The guys have been very supportive and I'll do my very best going forward in helping them to the best of my ability to get a medal.
"It would be quite fun to come away with a gold medal. I'm not putting any pressure on us, we still have to go there and execute."
The England team is missing athletes such as world relay champions Adam Gemili and Nethaneel Mitchell-Blake through injury, but Hughes added: "I still think the guys are strong. We are all hungry, we all want something from the Commonwealth Games so we'll be doing our best going into the final and hopefully we do what we're supposed to do."
Commenting on his team-mate's 200m disappointment, former world indoor champion Kilty said: "We were gutted. Everyone's emotions were up and down, we completely felt for him.
"Looking back on the replay, I don't think it was anyone's fault – it's championship athletics, everyone's fighting for the line.
"It was heartbreaking to watch. We gave him a big hug when he got back in and we'll make sure we go out there and get him a gold medal in the relay."
Meanwhile, Friday's morning session at the Gold Coast Games also saw Scotland's 800m fourth-placer Jake Wightman and England's Charlie Da'Vall Grice make the 1500m final after placing third and fourth in their heat respectively. They will be joined by Scotland's Chris O'Hare after his time of 3:44.76 was quick enough to see him progress.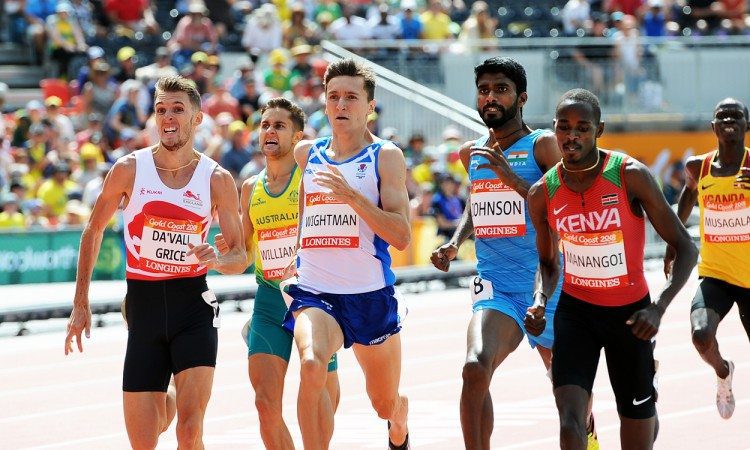 But there will be no England men's team defending its title in the 4x400m final after Matt Hudson-Smith – who was disqualified from his individual 400m heat – pulled up injured on the first leg of the relay heat. He was helped away from the track by his team-mates Dwayne Cowan, Rabah Yousif and Jack Green.
"It is very frustrating and I'm just sorry for Matt," said Cowan. "He's in really good shape so it was a good opportunity for us to get the gold.
"There was something there for us, so that makes it even more disappointing."
After being roared home in third place to qualify for the final, the Australian team was disqualified.
Australia's Hamish Peacock had the longest throw in javelin qualification with 81.22m, while Pakistan's Arshad Nadeem threw a national record of 80.45m to also advance.
Former world champion Julius Yego of Kenya will not have the chance to attempt to retain his title as his best of 74.55m was the furthest throw not to qualify for the final.
With one event to go, world indoor pentathlon champion Katarina Johnson-Thompson leads the heptathlon by 174 points ahead of Canada's Nina Schultz – 5448 points to 5274.
Johnson-Thompson started day two with a leading 6.50m in the long jump, choosing to pass her final attempt, and threw 40.46m from her single javelin attempt.
Johnson-Thompson's 18-year-old England team-mate Niamh Emerson is in fourth after recording a 40.34m javelin PB, while Northern Ireland's 17-year-old Kate O'Connor is ninth, one place ahead of Scotland's 18-year-old Holly McArthur.
» See the April 12 and 19 editions of AW magazine for in-depth event-by-event coverage from the Gold Coast Games