The world T44 long jump champion has faced many questions about retirement since her success in London but she's not ready to stop just yet
When Stef Reid won her first gold medal in a global event – the T44 long jump at the London 2017 World Para Athletics Championships – there was an assumption that the three-time Paralympian might then retire from the sport.
That was never on Reid's mind. She said immediately after her win in London: "I'd be really disappointed to not do Tokyo (2020 Paralympics).
"I've had such a good time with my coach, Aston Moore, over the last two years. He's the kind of coach I think: 'oh, gosh, I wish I'd met you when I was 16'. He still has a lot to teach me. And I'm still having so much fun. I'm not ready to walk away from it this year."
Speaking a couple of months after the world championships, the 33-year-old is still bemused by the reaction. "I don't know why everyone assumed I was retiring after 2017," she says. "Even my agent wanted to have a conversation with me about the transition.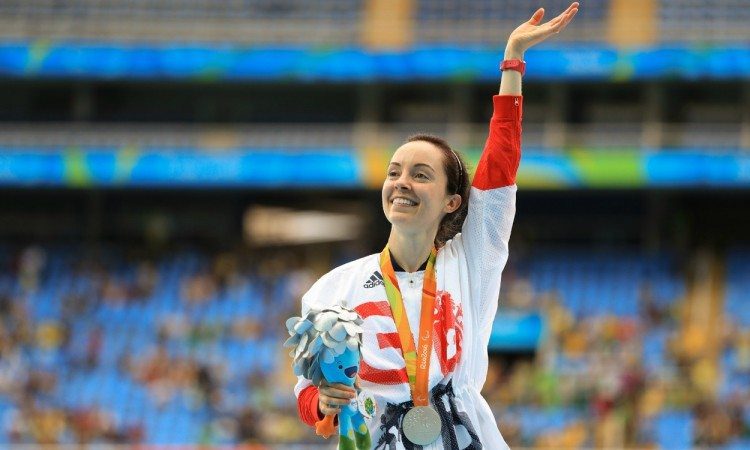 "I said: 'Nick, I'm not retiring'. Perhaps it's standard that people expect a woman in her thirties not to want to do sport any more.  But I am in such a great position. I just love working with Aston. We have not had long enough together and even our little long jump group is expanding. I'm training now with Olivia Breen and Zak (Skinner) has come in and two decathletes. It's such a great group.
"I think I can still jump further," she adds. "The day will come when I'll look back and think 'that's all, I reached my potential and I'm happy with that'. But I don't think I have reached that yet.
"When I can compete is such a short window. I'll have my whole life to be retired. I get up every day and love what I do, so as long as I am still loving it, why stop?"
After two big years – featuring the 2016 Paralympics and 2017 world championships – Reid is excited about 2018.
"It's year when there isn't a world championship and there isn't a Paralympics, but there are the European Championships which for me is basically like a world final because all my biggest competitors are from Europe," she says. "But it's also a year where you can have the freedom to take a break – to explore things in training that perhaps you didn't have the time to do.
"In a world championship or Paralympic year you can't take any risks so this is a time to try new things and experiment a bit, both on the track and off it."
"I get up every day and love what I do, so as long as I am still loving it, why stop?"
Reid has always been a person who is keen to try different things. She has been a pundit for Channel 4 on the World Para Athletics Championships and the Paralympics, she was an interviewer for BBC at the 2017 Invictus Games, she has starred in a film and she has trodden the catwalk at London Fashion Week.
She sees trying different things as important. "Who you are on the track is who you are in life and it all helps you to grow as a person – to grow independent and competent in all areas of your life not just on the track and ultimately that's going to produce the best performance possible.
"I always encourage other athletes to go to school, stay in school. My degree was in biochemistry and people sometimes ask me if I think that was a waste as I don't use it every day now. I couldn't disagree more because what I learned in that period was how to think for myself, how to problem solve, how to work hard, how to achieve a goal, how to deal with periods of intense stress whether in the form of exams or a presentations."
She is convinced all the different things she has done make her a more rounded person and a better athlete as well as providing an opportunity to explore other career opportunities. It will be exciting to find out what is next.