Charity-raisers for the Ron Pickering Memorial Fund are ready to lace up their trainers on Sunday
Among the 45,000 virtual marathoners on Sunday will be 20 'Ronners' who will be raising money for the Ron Pickering Memorial Fund, writes Ashleigh Spiliopoulou.
Due to coronavirus the Virgin Money London Marathon itself in the British capital is an elite-only event but many ordinary runners around the world will be running 26.2 miles at some point during the same day – with many raising money for charity.
These include the Ronners, who will be helping an athletics charity which supports promising young athletes and is named after the former television commentator and coach, Ron Pickering, who died in 1991.
Some of the Ronners are running simply to take part and others are pushing themselves to achieve personal bests – and each has their own story.
Every penny raised in support of the Ronners will help a young athlete around the UK pursue their dream through the fund's annual grants scheme. Every year the charity receives around 600 applicants and wants to be able to support as many of them as possible.
The cancellation of the London Marathon on its original date of April 26 came as enormous blow. Each year the Ron Pickering Memorial Fund gives out around 200 grants to young athletes around the UK – based on a combination of need and performance – amounting to a total of around £45,000. And this money is raised entirely by the 33 Ronners who run the London Marathon and collect sponsorship.
Fortunately, every runner who was due to run the London Marathon this year has been given the opportunity to run in either the 2021, 2022 or 2023 marathon as well as being offered the opportunity to take part in the unique virtual event on Sunday (October 4).
In the meantime, the Ronners, as well as other supporters and grant recipients, have been continuing to raise money for the charity through other means. Notably, the hammer thrower Taylor Campbell (below), one of the Jean Pickering Olympic Scholars, took on the 26.2 challenge to raise money for the charity by doing 26 press-ups and then encouraged many other grant recipients to do the same.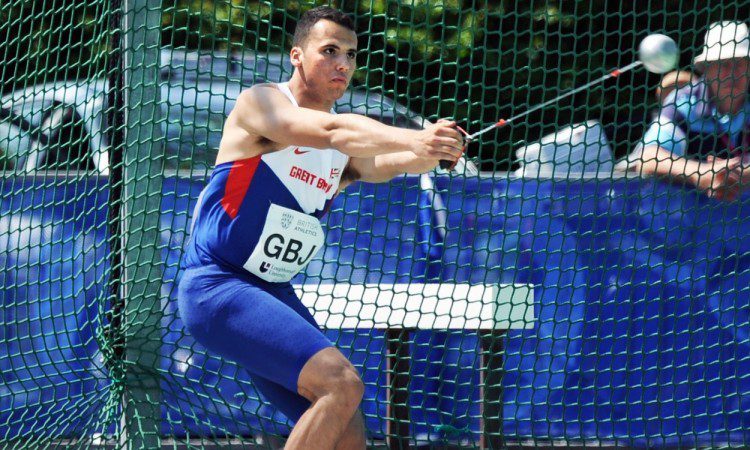 In addition, the British Milers' Club ran a virtual 1km event and each of these initiatives raised over £1000 for the fund.
Criteria for awarding the grants this year will consider the difficult year athletes have had to navigate, with many having had their training and competition season adversely affected by Covid-19. An application process for the 2020-2021 grants will open in the next couple of weeks.
It's been an incredibly difficult year – both for the charity and for the athletes – and as such anysupport of the virtual London Marathon Ronners means even more than in a typical year.
If you would like to donate to the Ron Pickering Memorial Fund, please see here. 
» For more on the latest athletics news, athletics events coverage and athletics updates, check out the AW homepage and our social media channels on Twitter, Facebook and Instagram