The Birmingham-based Olympic and world indoor high jump medallist is motivated by a major championships on his doorstep
Robbie Grabarz's career so far has not been short of home global championships but his next major target – the IAAF World Indoor Championships in Birmingham – could be something extra special.
Not only will his event be the centre of attention come the opening evening on March 1, but the meet will take place just 15 minutes from the high jumper's home in the West Midlands city and the chance to compete in front of family, friends and home fans on his doorstep is a big motivation.
"It's such a privilege to have had so many home championships in my career – I was born in the right year!" laughs the 30-year-old, who became an Olympic bronze medallist on home soil in 2012 and this summer placed sixth in the world final back in the London Stadium.
"It's just so nice to know that for all my family and friends and all the British supporters – who are the best supporters in the world without a doubt – it's an opportunity for them to come in force and just really enjoy it."
It would mean just a short trip from home for his young daughter, Lyra, too. "She'll be there cheering!" Grabarz says. "Being an athlete, I get to spend a lot of time with her and it's brilliant. She loves coming to the track and watching me compete, and trying to high jump, aged two and a half!"
"It's such a privilege to have had so many home championships in my career – I was born in the right year!"
The spotlight will turn to the men's and women's high jump finals after the official opening at Arena Birmingham, and the timetable is dedicated to those events until the women's 3000m later on in the evening.
"It's going to be really exciting – a spectacle event," says Grabarz, who secured world indoor silver at the last edition of the championships in Portland. "There are a lot of high jump to music competitions where there's not a lot else going on, so it's quite an intense atmosphere. As a spectator you can really watch and understand the event.
"At a championships you can see people jumping but you can't always follow it as an event, it's something you have to concentrate on to really appreciate. It's great to see someone jump 2.40m but actually to see two people battling and know who's in the lead, it does make it that bit more exciting."
Recently back in training after six weeks off, Grabarz has had time to reflect on his year, which began with an emergency appendix removal before a European indoor silver medal just a couple of months later and then a summer which included the eighth senior global championships of his career.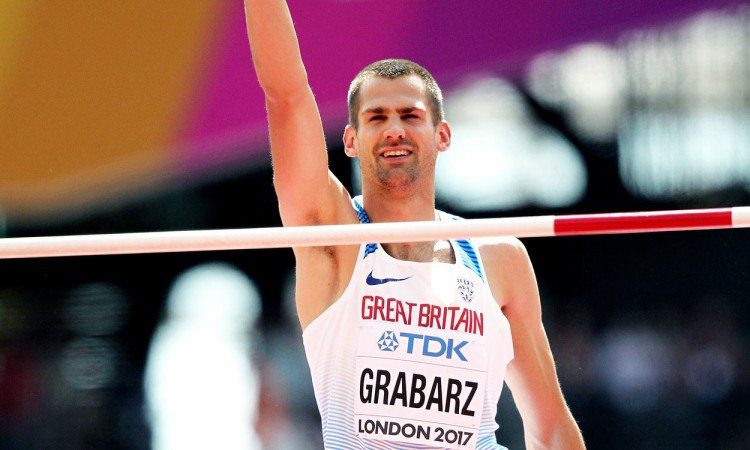 "It wasn't bad, basically. It was just about acceptable," he says, assessing 2017. "I didn't perform as well as I should have done at the championships but everything else in general was reasonably good, so, being positive about it, that's all right. But you don't train all year and commit your life to something to be all right at it and 'it will do'. It's disappointing at the same time.
"Coming into winter training, you look at it and you go 'right, we're not going to make that happen again. We don't need massive changes but what are we going to change and how are we going to do it?' Then you get motivated by those things.
"The main thing this summer was I wasn't technically that good," adds the Fuzz Caan-coached athlete. "I hurt my foot a little bit in my second Diamond League in Shanghai and it meant we couldn't do enough high-level technical training in between competitions."
Known for his determination and his ability to battle back after adversity – such as the knee problem in 2014 which kept him out of action for over a year – Grabarz is also targeting the Commonwealth Games in Australia and the Berlin European Championships next year and it's his winning mentality which helps him through the tough winter months.
"Those really hard places in training – you get through it by thinking 'medals', 'winning', 'beating everybody', 'jumping PBs'," he says. "That's what keeps you going from October all the way through to March."
And as long as he maintains that mindset, he'll continue to compete.
"I'm just going to keep jumping as long as I can stay healthy in my body and in my mind and remain motivated," Grabarz adds.
"I feel like it's probably going to be taken out of my hands – my body is just going to ask me to stop. But I want to be a three-time Olympian, so that's 2020. If I make it that far, that's great, and anything beyond that would be a real bonus. It's a great way to spend my life."
» The IAAF World Indoor Championships Birmingham 2018 will be staged at Arena Birmingham from March 1-4 with more than 400 athletes from 150 different countries expected to compete. For more information on the event, tickets and news please visit wicbirmingham2018.com