The eight-time Olympic and 11-time world medallist tells Stuart Weir about some stand-out moments in her career
Earlier this month Veronica Campbell Brown announced that she is pregnant and that this may mark the end of her highly successful athletics career.
"Our lives will soon change forever," she wrote in a statement. "Baby coming soon.
"We look forward to parenthood and all the joys and challenges that come with it. We pray for strength and wisdom to be the best parents possible.
"At this moment, I am uncertain if I will return to competition, as the main focus is to welcome our baby, and to provide the best environment filled with love, warmth and care."
— Veronica Campbell Brown, OLY (@VCampbellBrown) January 8, 2019
Some months after gaining a medal in Rio, the fifth consecutive Olympics at which she had won a medal, Campbell Brown shared with me her memories of five Olympics. The interview was intended as a preview for London 2017 but injury kept her out of the world championships.
Campbell Brown was just 18 when she won a silver medal in the Sydney Olympics in 2000. "That was when I realised that I was capable of running among the best in the world," she recalls, "when I ran with the senior ladies in the 4x100m relay and we got a medal."
Four years later she went to Athens with bigger goals, taking a bronze in the 100m. "My expectation going into Athens was to do pretty well," she says. "My main focus was on execution, taking it round by round and just working towards the podium. Maybe I was thinking 'gold medal', I don't remember.
"I was grateful for a bronze in the 100m but I was going for a better colour of medal. Winning the gold in the 200m was my childhood dream because I always dreamt of winning an Olympic gold medal and when it happened in 2004 it was so overwhelming.
"I am so grateful. The rounds leading up to the final were pretty good and I ran a pretty good final. The 4x100m team also won so it was a great experience. Athens was fun and I felt great."
In 2008 she went to Beijing as defending champion. Her main rival was Allyson Felix, who was second in 2004 but had won the world 200m title in 2005 and 2007.
In the event the 2008 Olympic 200m final saw a repeat of 2004 with Campbell Brown first and Felix second.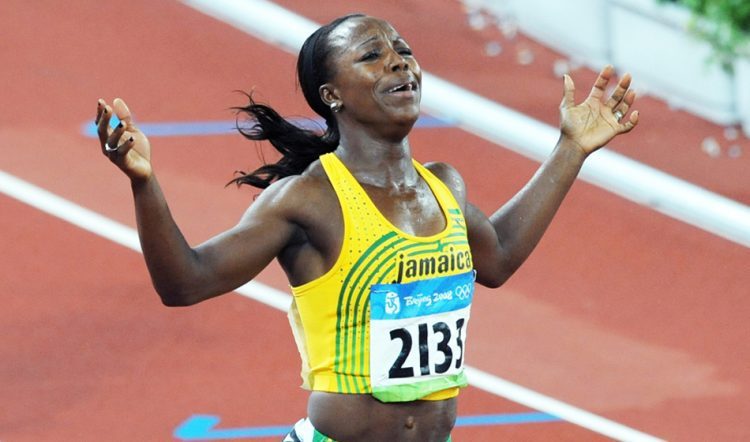 Campbell Brown was delighted. "2008 was great," she says. "It was a really good feeling to defend my title. It was challenging.  There was a little bit of pressure because everyone was looking to see if I could do it. I believed I could and I just relied on my ability and my training. I ran a very good race and ended up getting my second gold medal in the 200m."
The year 2012 saw Shelly-Ann Fraser-Pryce retain the 100m title she had won in Beijing, with Carmelita Jeter second and Campbell Brown third. Felix won the 200m followed by Fraser-Pryce and Jeter, with Campbell Brown out of the medals in fourth.
Her assessment was: "I was looking to medal in the 200m but things don't always happen the way we perceive them but at the end of the day I was pleased that I medalled in the 100m and the relay. I am grateful for the outcome.
"When I look back on it, I am grateful for what I achieved. I try not to be ungrateful any season whatever I achieve, I just give God the glory.
In 2016, aged 34, she made the Jamaican team in the 200m but finished third in her heat and was eliminated as the nation's new heroine, Elaine Thompson, won the 100m and the 200m.
Campbell Brown was in the sprint relay team which took silver, giving her an incredible medal at five consecutive Olympic Games. She reacted with typical positivity: "The Rio Olympics were quite interesting but I did not achieve everything I wanted. At the end of the day I was grateful for the opportunity to be there, to be at my fifth Olympics. It was a blessing."
If this is the end of her career – and she has left the possibility of a return to the track open – she will retire with eight Olympic, 11 world, five Commonwealth and two world indoor medals. An amazing haul.
» For more on the latest athletics news, athletics events coverage and athletics updates, check out the AW homepage and our social media channels on Twitter, Facebook and Instagram