British discus record-holder turned NFL player detained in Alabama as part of a prostitution sting
British discus record-holder Lawrence Okoye was among 13 people to have been arrested in a prostitution sting in America.
The 27-year-old was a great athletics talent and threw his national record of 68.24m in May 2012 before representing Great Britain at the London 2012 Olympics where he finished 12th aged just 20, but then switched sports to pursue a career in American football.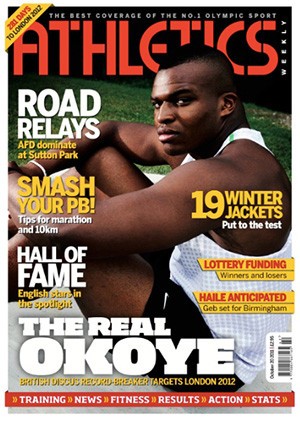 He had earlier turned down a promising rugby career and a place at Oxford University to focus on the discus in his quest to compete at the London 2012 Games and appeared on the AW cover in 2011 and 2012.
Okoye, who was born in Croydon, was arrested by the Shelby County Drug Enforcement Task Force on Wednesday, four days before he had been due to make his debut for the Birmingham Iron American football team.
Okoye had previously had spells playing for teams including the San Francisco 49ers, Arizona Cardinals and Dallas Cowboys.
He was reportedly released from the Shelby county jail on bail on Thursday after posting a $1000 bond.
"On Wednesday, February 6, 2019, the Shelby County Drug Enforcement Task Force (SCDETF), in partnership with the Hoover Police Department, conducted an undercover reverse prostitution sting, titled Operation Close Out, Round 3," read a police statement.
"The operation was carried out in North Shelby County. The operation is a continuation from September 20th, and October 18th, 2018, in which 20 total offenders were previously arrested.
"Thirteen men were arrested and charged with the crime of Soliciting Prostitution."