Briton ran 26.2 miles in every single country, overcoming muggings, illness and mental struggles to raise money and awareness for Prostate Cancer UK
Marathon running is not without its challenges but Nick Butter took things to the extreme by overcoming muggings, being hit by a car, being shot at and a Congo River crossing in his bid to become the first person to complete the iconic distance in every country in the world.
The Briton ran the 26.2-mile event in 196 different countries in 674 days having been inspired to raise money and awareness for Prostate Cancer UK after meeting Kevin Webber, who had been terminally diagnosed with the disease, at the Marathon des Sables in 2016.
After two years of planning, Butter left London in January last year, with his marathon mission starting in Toronto, Canada, and ending in Athens in Greece earlier this month.
While it is a world first, Butter is also applying for a Guinness world record for 'the fastest time to run a marathon distance in all sovereign states as identified by the UN'. The 196 figure comprises the 193 member states of the United Nations, plus three others not currently officially recognised.
So far, donations to his fundraising page at justgiving.com have totalled more than £118,500.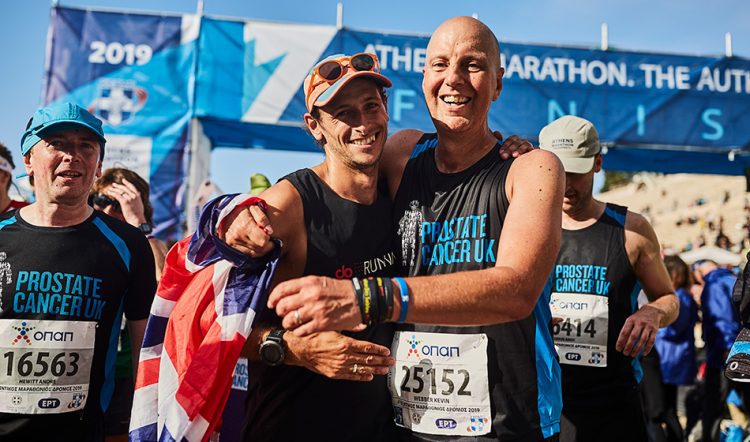 Butter used to run as a break from his job in finance but something resonated when Webber (pictured with Butter above, right) told him most people were just 'existing' instead of going out and making their dreams reality.
"As soon as I realised it (running a marathon in every country) had never been done, a switch had been flicked and I was going to do it," says Butter. "It was just a matter of understanding how and that took two years, just to get to the start line."
During the trip, the 30-year-old faced many difficult environments including war zones and areas of political unrest, plus extreme climates such as the Sahara Desert and Antarctica.
One of his biggest challenges was crossing the Congo River.
"I was terrified to cross that," he says. "I could have flown but it seemed ridiculous because it's like 300 metres. I did cross successfully but there were lots of bribes I had to pay."
He also understandably had to deal with physical and mental struggles.
"The physical side was mostly illness," says Butter, whose marathon PB is 2:55. "My legs were pretty much stable and I had to occasionally do some icing to them.
"But the illnesses – I did 22 marathons with food poisoning, I ran in Bangladesh in 44C with something like nearly 90% humidity and I had a kidney infection. Every step was horrible, I was throwing up every mile or so.
"The mental toll is interesting," he adds. "I wasn't expecting it to be as tough as it was. I'm quite mentally strong but it was the relentlessness of not being able to hit pause. It's almost the feeling of being on a spinning roundabout and being told you can't get off for two years.
"It was stressful. Going into Syria and Yemen and Libya and Iran, I was scared, sometimes physically shaking, because I was thinking not only do I not want to get shot, kidnapped or killed but I actually need to run this marathon today because otherwise I won't get to the finish line in time."
His next marathon effort will be the school and theatre tour he has planned, as he travels the UK and Europe to share his story.
"This tour is something I'm really passionate about now," he says, "because there's no point doing this thing if we're not going to raise the money and if we're not going to tell people, especially young people, about it. I hope that other people will see that it's a great thing, to go and do something that scares you and give it a go."
» Visit runningtheworld196.com or email [email protected] to find out more about his challenge and upcoming tours. See Butter's Instagram account at @nickbutterrun