British wheelchair racer broke a world record and won European gold last year and now leads the GB team at the World Para Athletics Championships
After breaking a world record, winning European gold and being named BBC young sports personality of the year, Kare Adenegan knows that 2018 will be a hard year to top. Her successes have left her feeling confident and highly motivated, however, as she gets ready to compete at her third World Para Athletics Championships in Dubai.
The wheelchair racer has gone from being inspired by the likes of 10-time world and five-time Paralympic champion Hannah Cockroft to becoming a gold medal contender alongside her and the 18-year-old now also has the benefit of experience to go with her hard work and talent.
"Last year was so amazing and in some ways it will be quite difficult to top what happened but it was a huge confidence boost as well," says the Coventry athlete, who has cerebral palsy.
"I think once you've won that first senior gold or you've had such a good year, it just reminds you of what you're actually capable of. I know what I can achieve when I'm at my best so that gives me that motivation when I'm training."
Reflecting on London 2012, which ignited her passion for athletics, she adds: "I was just watching the London 2012 Paralympic Games on TV, like many people, and I found the athletics really exciting. I did specifically see Hannah Cockroft in the T34 100m and I thought that was just amazing, to see people go so quickly around a track. It was through that that I found out there was a coach and a club that did wheelchair racing really close to where I lived and that's how I started."
After winning world bronze in the T34 400m and 800m as a 14-year-old in Doha, Adenegan went on to claim three more medals in London in 2017 to go with her Paralympic 100m silver and 400m and 800m bronzes from Rio.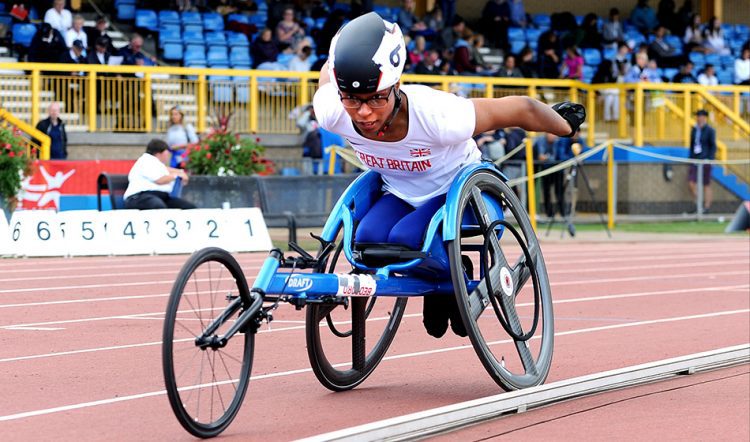 On lining up alongside Paralympic stars such as Cockroft, whose world 100m record she broke with 16.80 at the Anniversary Games in London last summer, Adenegan says: "It's an honour, to be honest. When I look back, I think 'wow'.
"Going from watching someone and being really inspired by someone to actually racing against them and having competition with them – it's really good. I just try and keep myself grounded and think how much I've achieved and be proud of my progression."
She is now such a valued member of the team that she was voted co-captain of the British squad alongside four-time world champion Richard Whitehead and on the benefit of experience, she adds: "Experience is so important. That was the thing I really wanted when I started off – I was thinking 'I just need to do the races and do the championships' but now it's a bit different. I know that I've got the capability of getting on the podium.
"I'm quite open to encourage those who have just started out or it is their first championships. I feel like I can help them and give them advice. I think it's really important to have those that have already been there and done it, just to help those that are new and encourage them."
Having recently started at the University of Warwick, where she is reading history and philosophy, Adenegan will be juggling studies with her athletics but again she will be using experience to her advantage.
"I'll probably have university work to do while I'm at Worlds, but it's something that I've always done – since I started the sport I've always had school and exams in the background," says the teenager, who will contest the T34 100m and 800m in Dubai, where the championships take place from November 7-15.
"So as much as it is a bit scary, I'm trying to remind myself that actually it's something that I have been doing since I started the sport so I haven't known any different.
"I'm going to go out there and do my very best and gold would be amazing but I know I've had such a busy year," she adds, on her world aims.
"It's about going out there and making myself proud and trying to give as much as I've got right now and then I've got to be happy with the result, whatever that is. It would be really nice to get more medals."
» For more on the latest athletics news, athletics events coverage and athletics updates, check out the AW homepage and our social media channels on Twitter, Facebook and Instagram