Middle-distance man puts teaching career on hold to focus on World Champs and Olympics
Jamie Webb is ranked No.1 in one of the most competitive events at this weekend's Müller British Championships in Birmingham – the men's 800m. The 25-year-old faces arguably the strongest field for years in the event and he knows there is no room for error if he wants to qualify for the IAAF World Championships in Doha.
"It's going to be an incredible domestic showdown," he says. "Realistically you could end up with the whole final who are able to make the team."
In the quest for excellence, Webb recently put his teaching career on hold in order to focus on training 100% in the run-up to Doha and the Tokyo Olympics next year. His last day as a teacher was one month ago and he wasted no time in setting a PB of 1:44.52 the following day at the Müller Anniversary Games in London.
However, in Birmingham this weekend he will face another sub-1:45 man this year in the shape of Kyle Langford, together with Elliot Giles, who finished top Brit at last weekend's Diamond League in Birmingham, plus Guy Learmonth, Andrew Osagie, Thomas Staines, Spencer Thomas and UK junior record-holder Max Burgin, among others.
"I'm feeling good," says Webb. "Birmingham last weekend was a funny one for me (Webb placed fourth, one position behind Giles in a race won by Ireland's Mark English). I got a bit caught up with the race at 500m and got a bit too aggressive and it came back to bite me in the home straight with the wind and the lactic."
It was a reminder for Webb that this weekend won't be easy. "If I want to compete with the best in Doha and be in the final then I have to be one of the top three in Britain," he says. "There is not much room for manoeuvre this weekend. I have to produce my best or I won't be going to Doha."
Webb was a bit of a late starter in athletics. He says he "messed around" in other sports as a teenager and didn't begin running seriously until he was in his late teens. His dad, Adrian, began coaching him at Liverpool Harriers but more recently he has also benefited from the advice and experience of Matt Yates – the 1992 European indoor 1500m gold medallist.
"My dad and Matt will both be there this weekend," Webb says, explaining the coaching partnership. "We also have three people competing this weekend so we'll be there as a team. We're all working on a common goal and the way we work together has become more fluent over time."
Such is Webb's progress, he has beaten Yates' PB of 1:45.05 and also the Liverpool Harriers club record of 1:44.92 which was held by Curtis Robb – a world and Olympic 800m finalist in the 1990s.
With Burgin breaking age-group records and GB juniors Oliver Dustin, Ben Pattison and Fin Mclear sweeping the medals at the European Under-20 Championships, too, some are describing the current 800m crop as the strongest since the 1980s and the days of Seb Coe, Steve Cram, Steve Ovett and Peter Elliott.
"It'd be amazing to lift the sport to that level of popularity again," says Webb, who won European indoor silver earlier this year in Glasgow (pictured below). "I don't think any target is out of reach but I see myself as improving by about one second a year, which I've done a good job of so far."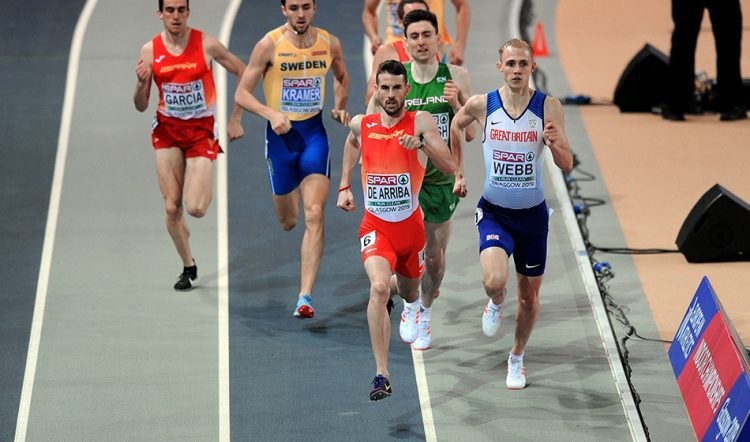 His current "sabbatical", as he calls it, from teaching cannot be harming his athletics but is he feeling the benefits yet? "It's a bit too early to tell," he says, "as I usually have summer off anyway. It's not really kicked in yet that I'm full time. I'll probably feel the benefits more in winter when I have a bigger volume of training.
"But if I want to do well at the Olympics then the work I need to put into that isn't sustainable alongside a full-time job," he adds.
Webb says he is 3kg heavier than last year and is lifting more in the weights room but is doing one less weights session per week, which is making his legs fresher for running sessions. He says he has always been aerobically strong but it now also one second quicker over 200m than he was previously. Weights aside, this might be linked to him shortening the length of his hill reps in recent months.
He plans to add more to his routine, too, as he explains: "I've got the chance to restructure my whole life and improve my nutrition, do a bit more yoga, focus more on recovery and quality sleep, etc. From now on I hope to have some spare time after running rather than trying to do running in my spare time.
"Now is the perfect time for me to do it full-time. A lot of people do it before university and don't know what to do with themselves but I'm 25 and I didn't really start training until I was 18."
» The men's 800m heats at the Müller British Championships are 6pm Saturday (Aug 24) and the final 4.37pm Sunday (Aug 25)
» For more on the latest athletics news, athletics events coverage and athletics updates, check out the AW homepage and our social media channels on Twitter, Facebook and Instagram