The most decorated female athlete in Olympic and world championships history has recently been focusing on other passions, including working with Special Olympics athletes
Allyson Felix says her focus is on enjoying and fully embracing the next few years of her career as she targets a fifth and final Olympic Games.
The most decorated female athlete in Olympic and world championships history, Felix has nine Olympic medals and 16 world medals to her name as well as a world indoor relay gold, but the sprinter doesn't intend to stop there.
With 2018 seen as a bit of a "down year" for the American, who is not targeting the World Indoor Championships in Birmingham, it is giving her the chance to briefly reflect as well as concentrate on other passions before she starts to work towards her ninth IAAF World Championships in Doha in 2019 and the Olympics in Tokyo the following year.
"I feel very, very blessed," says the 32-year-old, looking back on her career so far. "Especially now as it's kind of in this final push for the final years of my athletics career, I just want to really enjoy it – I don't want to take anything for granted. I want to take it all in and really embrace it.
"I had always had the idea that I would love to make a fifth Olympic team.
"I map everything and work backwards so for sure 2019 and 2020 are on my mind. I think it's really great to have a year like 2018 when it's less intense and a bit of a down year after the last three intense years that we've had," continues Felix, who added another three world medals – two relay golds and 400m bronze – to her CV in London this summer.
"The 400m has been the new challenge for me and I do see that continuing on, just trying to get it right. I definitely feel like I have my hands full with that right now!"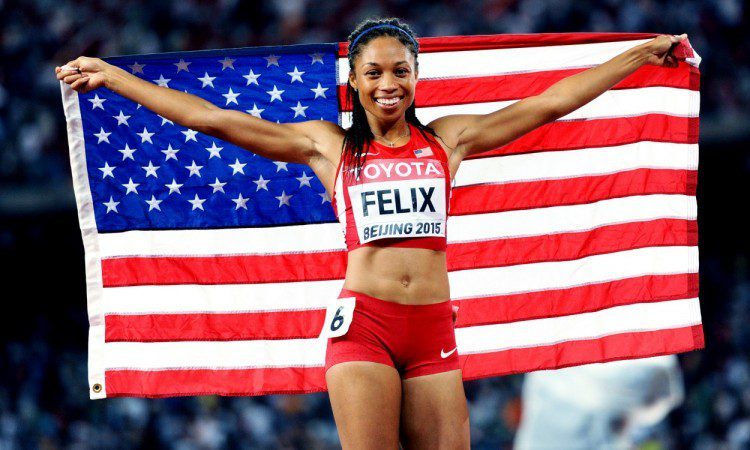 One of Felix's passions is the work she does with Special Olympics and on a recent trip to Abu Dhabi – host for the 2019 World Games – she held sprint clinics with a number of Special Olympics athletes.
"Sport has changed my life and it's always been a universal language," Felix explains. "Wherever you go in the world it brings people together and it's no different in this cause. I've been able to see that first-hand and it's what makes me so excited about the Games coming to Abu Dhabi.
"I think it's a huge opportunity for some perceptions to be cleared up about people with intellectual disabilities and a great opportunity for people to get involved."
Although she can't see herself becoming a coach when she does finally hang up her spikes, this down time is giving Felix the chance to consider what else she might like to do in the future.
"I really haven't had the coaching bug," she says. "I love to work with youths and children – that's always been a passion of mine, doing clinics and things like that is really fun for me. I don't know if I can see myself actually coaching but I never say never! Right now, I don't see it, but who knows!"
» The 2019 Special Olympics World Summer Games will be held in Abu Dhabi, United Arab Emirates, from March 14 to 21. See abudhabi2019.org