Neil Costello of Cambridge & Coleridge and Tim Soutar of Blackheath & Bromley named as first elected board members
The results of the first England Athletics board elections have been announced, with Tim Soutar of Blackheath & Bromley Harriers AC and Neil Costello of Cambridge & Coleridge AC (pictured above, centre) to join the board of directors.
Two positions on the board had been allocated for elected members following the findings of the governing body's 2013 consultation in which clubs expressed a desire for more representation within the structure of England Athletics. These positions are in addition to the two positions on the board allocated to National Council.
"I would like to congratulate Tim and Neil on their election and wish them every success in the roles that they will take on as board of directors," said chair of England Athletics Peter King.
"This is the first time England Athletics has held board elections. It is essential our clubs are properly represented on the board and these positions, in addition to the two allocated to National Council, are a vital part of ensuring our clubs are integral to the decision making processes of England Athletics."
There were seven candidates for the two board positions, with all clubs and organisations who were members of England Athletics at the closing date for candidate nominations in January entitled to vote.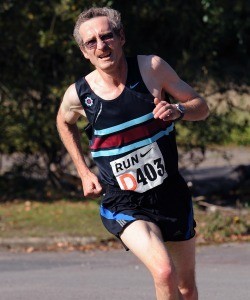 "Our clubs are the bedrock of our sport. We all benefit from their proper engagement in key decision-making," commented Soutar, pictured right. "With our strengthened governance process, we are better placed to confront the challenges facing us. I am very grateful for the support I have received and will do my best to continue to work with everyone to ensure a secure future for our sport and its participants."
Costello added: "I was nominated by clubs from five counties reflecting the breadth of activities in our sport. I hope I can represent the range of interests effectively.
"I'm looking forward to working with the other members of the board and to the opportunity to use my experience inside and outside athletics so that it continues to be a sport of which we can all be proud."
Chair of Blackheath & Bromley Harriers AC's management committee for the last four years, Soutar has also been team manager for the club's junior women and is member of the London Regional Council and the England Athletics Membership Process and Consultation Advisory Group.
A chair of Cambridge & Coleridge AC for more than 10 years Costello was founding chair of the Greater Cambridge Network and is an endurance coach and competitor on roads, cross country and track. He has also filled official, race director, race adjudicator and UKA coach tutor roles and in 2010 received a national England Athletics award for services to volunteering.
» See Thursday's AW for more on the England Athletics board elections, while full ballot results can be found here