The Scottish athlete of the year has had a 2017 to remember and now he wants to turn promise into prizes, writes Euan Crumley
The look on Callum Hawkins' face said it all. As he stormed down the finishing straight in the sunshine, and in blissful isolation, the young Scot couldn't quite believe what he'd done.
Winning the Bank of Scotland Great Scottish Run last year was hugely significant for the 25-year-old, whose hands went to his head and jaw hit the floor when he glanced around to see the clock reading 60:24 – a time which was over two minutes faster than the Scottish half-marathon record at the time.
Unfortunately, Hawkins' mark was subsequently annulled after the Glasgow course was found to have been 149.7m short but, even allowing for the measurement error, his performance had represented a great leap forward.
That run was just over a year ago, when he was also still digesting the achievement of a remarkable top 10 finish in the Olympic marathon, and Hawkins now finds himself operating on a very different level to the one he was performing at as the first leaves of last autumn began to fall.
"That came out of nowhere, really. My training following the Olympics hadn't shown any sign of that happening"
December saw him come home from the European Cross Country Championships with an impressive individual bronze medal, as well as team gold, while 2017 was barely under way when he came agonisingly close to winning the Great Edinburgh XC after a stirring performance in the shadow of Arthur's Seat.
The February follow-up was even more impressive, though, as Hawkins well and truly confirmed his Scottish record-breaking ability with a run of 60:00 in winning the Kagawa Marugame International Half Marathon in Japan.
March brought a second-place finish to Feyisa Lilesa in running 60:08 at the New York Half Marathon but it was at the height of summer when Hawkins well and truly rose to the occasion again.
He just ran out of road in the pursuit of the major medal he so craves, coming fourth at the IAAF World Championships marathon in London – the best performance by a British man since 1995 in a personal best time of 2:10:17.
The Kilbarchan athlete – who was recently named Scottish athlete of the year at the FPSG awards – has had a little time to draw breath since that memorable August day and he grins as he contemplates how things have changed in what has truly been a year to remember.
The smile gets a little wider when he thinks about his run in Glasgow last year. "That came out of nowhere, really," he admits. "My training following the Olympics hadn't shown any sign of that happening. Then I came out, popped out a decent performance and training after that signified I could do a quick time.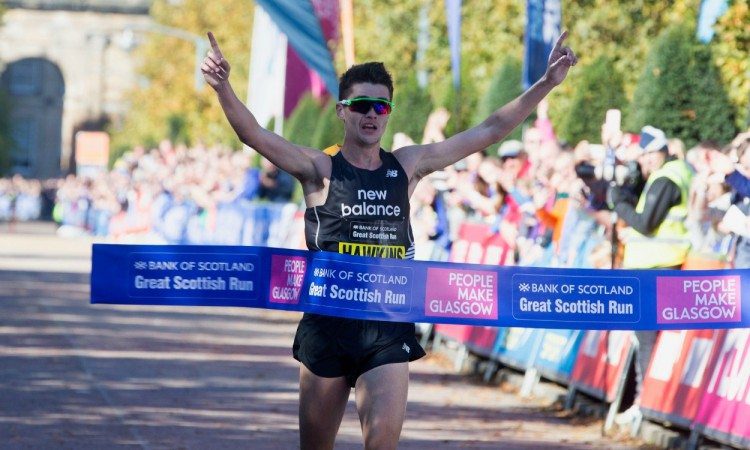 "Then there were the performances at the start of this year – one being 60 flat and the other 60:08 – and I think it was probably worth a bit more than that on that (New York) course.
"Then there was the actual world championships itself and I can't quite explain it, to be honest. This time last year, I would have chopped your arm off for those kind of times.
"This time last year, I never even thought about getting to that kind of level at all but then, after Glasgow, things have gone as I'd expected."
He adds: "Japan was the one where I thought 'right, I've proved that I can do it' and proved to everyone else that that (kind of performance) was there."
Hawkins has undoubtedly made his point and his return to the Bank of Scotland Great Scottish Run last month was the first staging post on the road to his next big target, the marathon at the Gold Coast Commonwealth Games.
"I'm out to get medals first. Times come second"
He was an interested spectator as the events of the recent Berlin Marathon unfolded, too. What was he thinking as he watched Eliud Kipchoge and company strut their stuff?
"At the top end, I was thinking 'how do they do that?'," he grins. "But I definitely want to get up there, to run the big races, get a quick time and improve.
"I think I was in at least 2:08 shape at the Worlds – and it's slightly annoying seeing people I know I can beat out there with quicker times than me.
"At the end of the day, though, I'm out to get medals first. Times come second."
Could that medal come in Australia next spring, though?
"The Commonwealth Games is the big target for next year – I've obviously been looking at that since Rio so it's going to be a good one and hopefully I can be up there challenging," says Hawkins. "It's going to be tough, though.
"You never know who Kenya are going to bring and the guy who was third at the world championships – Alphonce Simbu of Tanzania – is a Commonwealth runner too. Then there's Michael Shelley, the defending champion and a couple of other guys doing their first marathon at the end of this year so it will be interesting to see what they can do, too."
Hawkins' performances might just be worth keeping an eye on as well.
» This interview was first published in the October 5 edition of AW magazine