With seven world titles and an Olympic gold medal, Brittney Reese has dominated her event in the last decade, writes Stuart Weir
Brittney Reese has been the dominant women's long jumper over the past decade with four world outdoor and three world indoor gold medals to her name, plus an Olympic silver and gold. Her win in London 2017 showed that she is still a force to be reckoned with in the event.
The American started jumping at school and there's a story behind that. "I started back in 11th grade (16-17 years old)," she remembers. "My track coach brought the basketball team out to the long jump pit and said whoever jumps longest gets a Coke. He wouldn't let me do that as I was running the 400m at the time but as time progressed I kept begging him.
"When I did, I jumped 16ft and he couldn't believe it and told me to go back and do it again. I did it again and was close to 17ft. Not only did I win the Coke but I won the chance to do long jump as I was tired of the 400m."
Feeling unbeatable
The four years from 2009-2013 was a remarkable period for Reese. She won three outdoor world titles (2009, 2011, 2013) and two indoor worlds (2010 and 2012) as well as the London Olympics. Did she feel unbeatable? "Yes I did and I still do, to this day," she says. "Today I'm just competing with myself. I don't worry about my competitors and what they can do. I know what each competitor is capable of on a given day. But now that I am older, I know all the focus is on me and once I do that I can stay on top."
For someone who has won two indoor world titles, she is ironically not a fan of indoor competition, feeling that in the smaller arena with perhaps the high jump, the shot put and a track race happening at the same time as the high jump, means it is hard to get the crowd's attention. Yet despite her reservations she confirmed that Birmingham 2018 is in her plans.
The winning streak came to an end in 2015 where she only jumped 6.39m and did not make the final of the World Championships in Beijing. She recalls: "I was injured and had surgery the year before Beijing and when I got to the meet my back started acting up. I had had surgery to my hip which was causing a problem to my back to the point where I could barely run and jump. I knew my chances of winning were slim but I just had to tough it out and do what I had to do."
In 2016, fully fit again, she won the world indoor title in Portland with 7.22m. Then, at the Rio Olympics, she jumped 7.15m but had to be content with a silver behind Tianna Bartoletta's 7.17m.
In a phenomenal competition, Bartoletta, Reese and Ivana Spanovic all cleared seven metres with each of their last two jumps. She said: "It was tough but these things happen and I learned from it.
"I wasn't jumping well at the beginning of that meet and I left the gate open and that's how Tianna came in and got me. I have learned from that and I think it showed in London. When we have events like that, it makes our event look better.
"The thing with the women's long jump is that it is strong and on any given day any of us can win, so you just have to go out and perform and worry about yourself."
Commenting on how competitive the event has become, she added: "At every meet, I know that seven metres is the mark you need. If you jump that, you are guaranteed a medal. A lot of women in our event can't jump seven metres. So if you jump that you're going to get a medal."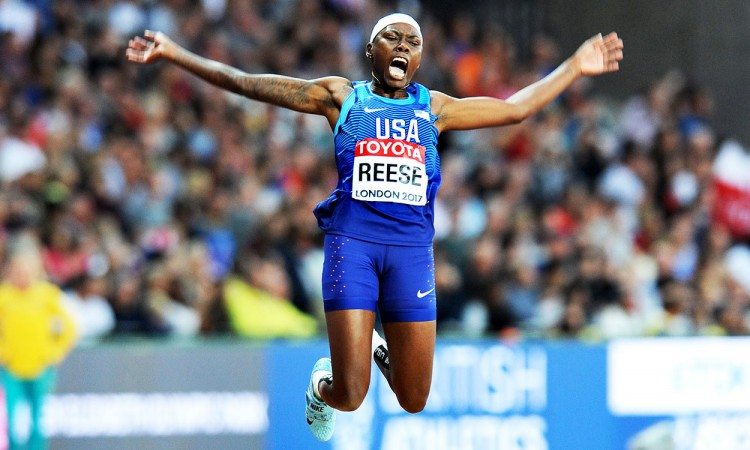 Despite her many victories over the years, she went to London 2017 without being a reigning world or Olympic champion. "I was not the favourite going in to London 2017 but that was not my main focus," she says. "It was to come out with a gold medal. So I prepared physically, mentally and emotionally to do just that."
The weather in London was good – except for one evening, the long jump qualifying. "Qualifying was hard," she remembers. "I knew when the rain started getting bad that I had to put a decent mark out there. I pretty much knew that no one would get the automatic qualifying distance. Nobody did – first time ever, I'm thinking. Once I got my first jump, I kinda knew it was where it needed to be in terms of being in the top 12. It was tough but the same for everybody so I couldn't dwell on it but just do what I had to do."
The temperature for the final was considerably colder than it had been in Rio the previous year. Reese opened with 6.75m, then a foul, then 7.02m, followed by three fouls.
However, only Darya Klishina managed 7.00m with Bartoletta third with 6.97m. After the competition, Reese said: "I just showed how mentally strong I am. Most definitely, I did what I had to do.
"I am good at championships because it is all or nothing. I have learnt my lessons before and today I had to take the cake. If you have the crowd behind you, you can jump great. When I came out here, I knew I had to put up a show. All competitors are able to jump more or less seven metres.
"My grandfather King David passed away some weeks ago in Mississippi. He is the reason why I started track and field. To have him in my heart, I am glad I came through with a gold medal."
DaLJBeast
Reese's Twitter handle is 'DaLJBeast'. I wondered where that came from. "It comes from college," she explains, "at my first meet at Old Miss I was doing the long jump, high jump and triple jump and won all three. One of my team-mates said 'release the beast' and it stuck.
Having won so many titles, what keeps her motivated? "My family and friends and my son," she replies. "I have a big support system around me. They keep me motivated and keep me engaged. My training partners keep the event strong and make it fun at practice so I don't have any reason to stop at this point. I'll know when I'm done – looks like 2020 – and when I am done, I'm done. It is what it is and I'm having a great time."
On her training, she says: "I do a lot of plyos, a lot of weightlifting. I don't jump that much – perhaps once a week. For me it is more about developing strength. I have automatically natural bounce and I can strengthen that with certain drills that I do in the weights room, to keep me sharp.
"Last year in the fall, we did a bit more sprinting and I worked on my speed. I even ran a 100m at UCLA this year and got a PR of 11.4. I feel that contributed to this season and I am a lot faster on the runway. My landing just naturally came along – that's another good thing."
If she keeps her form to 2020, then she could collect another Olympic, world outdoor and two indoor titles. And the 2021 Worlds are in the USA – she wouldn't want to miss that one, I imagine.