The performance of the home nation's 4x100m team at the London World Championships was a highlight of the year. Nethaneel Mitchell-Blake and Danny Talbot tell Euan Crumley about a night to remember
Nethaneel Mitchell-Blake chuckles at the memory. Even as he and the rest of the Great Britain men's 4x100m relay team – CJ Ujah, Adam Gemili and Danny Talbot – made their final preparations for what would be a fateful, record-breaking evening at the IAAF World Championships in London on August 12, 2017, they were on the same wavelength.
"It was like it was a movie," Mitchell-Blake grins. "We were in formation, even coming out of our hotel rooms on the way to the kit check. We knew we had to be at a certain place at a certain time and I came out of my room, then there was CJ, there was Danny, there was Adam and we all arrived at the hotel lift at the same time.
"Danny's funny in that he's not someone who says a lot so when he does it has an impact. He said: 'You know what guys? I think we're going to win this'."
Talbot adds: "Yeah, it was strange. Everyone just kind of emerged from different places. We were all very in sync, everything just kind of felt right going into it."
PRACTICE MAKES PERFECT
That feeling of complete confidence, the impression that everything was going seamlessly well, had not always been there, however.
Just a few days previously, at the British Athletics pre-championships training camp in Paris, the more eagle-eyed BBC viewers might have spotted that something was up.
"Danny and I were having trouble with the handover," admits Mitchell-Blake, who was running the anchor leg. "There was some BBC filming going on while we were practicing and, while they were interviewing someone else, there's a clip where in the background you can see Danny running straight into my back. I thought 'oh man, I can't believe they've used that clip!'
"I was worried I wasn't going to get picked. I remember Christian Malcolm asking if there were any other legs I could run but I'd put all my eggs in one basket with the anchor leg."
Given Britain's recent chequered history when it came to getting the baton round, it would have been very easy for anxieties to start creeping in. They were simply not given the chance to take hold, however.
"There was never a time when I didn't think we'd get it right in the race" – Danny Talbot
"That's why we practice," says Talbot. "The four of us were based in training groups in different places and we do do a lot of practice together but it's just getting used to people's stride patterns – for example I'm very different to Reece Prescod who has a very long stride whereas I rely on my turnover, so it can be difficult for someone coming in.
"As Nethaneel says maybe we didn't get them all right but there was never a time when I didn't think we'd get it right in the race. In the heat in the morning (at the world championships), that was the first time I'd passed in to Nethaneel competitively and I didn't have any problems doing it. I knew he'd get on the mark and he knew I'd run through for him."
That sense of quiet assurance which the athletes felt was transmitted from the environment created by the relay coaches – namely Stephen Maguire, the aforementioned Malcolm and Benke Blomkvist. Mitchell-Blake, for one, responded well to their approach.
"I'm new to the team so I don't know so much how things were done before but everything was calm," he says. "When that handover wasn't going well, no-one was on me, giving me a hard time, there was just this air of calm.
"Even CJ, when we got introduced to the crowd with the fireworks and all of that stuff, he said: 'let's have fun'."
Britain had a right to feel confident. The morning heat had gone to plan and the performance had been quick – yet not everyone had been completely happy. Mitchell-Blake was concerned a chance had been missed.
"You watch the heats and I eased up at the line and we missed the British record by three hundredths of a second," he says, still seemingly a little annoyed at himself.
Now, however, came the chance to go quicker. Much quicker.
IT'S GOT TO BE PERFECT
The dynamics of a vast, packed arena like the London Stadium on a night like that are something of a sonic rollercoaster.
"When we were introduced, the crowd went wild but, when it came to the start, it went to complete silence," says Mitchell-Blake. "Then the gun went and everyone went mad again.
"The pressure is on the guys in the first leg – they are the ones who have to react to the gun and CJ ran so well."
Indeed he did. Ujah was certainly not put off by the immediate roar he had at his back. He took just 0.124 of a second to get off and running, faster than anyone else on the track. It was exactly the start which Britain knew they had to make, but now came the really tricky part.
"We said that if we were going to win then everybody had to be flying, especially during the handovers," says Mitchell-Blake. "You see it in the film – the Americans didn't have the best changes, even Bolt moves the baton from one hand to the other, but we knew we had to be perfect."
The first handover, from Ujah to Gemili, was smooth. The baton had passed into the hands of a man who had been angered at being overlooked for individual selection at those championships. He was fresh and running with a point to prove.
"We knew we had to be perfect" – Nethaneel Mitchell-Blake
Gemili's acceleration along the back straight brought the first inkling that something special was unfolding. That fact wasn't lost on the anchor runner, either.
"Adam is a big competition athlete and as I was watching him start to come past the Japanese, I was starting to think 'wait a minute, this is going to come down to me'," says Mitchell-Blake. "That's when all sorts of different outcomes and scenarios start going through your head but you can't let that get in the way and you've quickly got to snap out of it."
First, however, Talbot had to get the baton safely around the next 100 metres.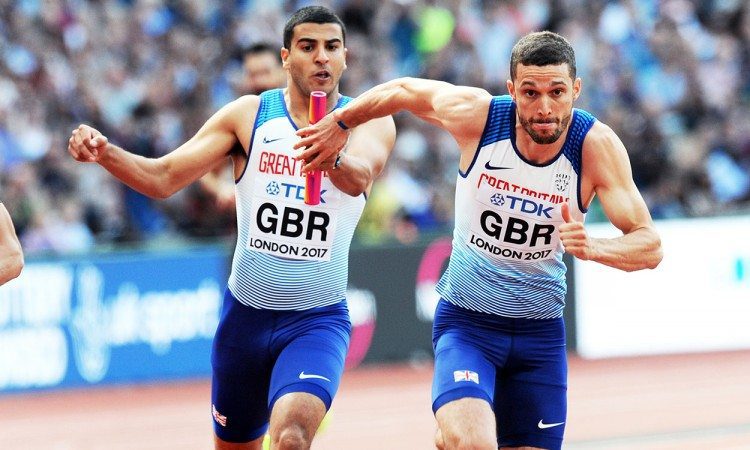 LISTENING TO ONE VOICE
"I saw CJ get the best start I've ever seen him do, saw him run the best bend I've ever seen him run – everything was just unfolding the way that I felt it was meant to unfold," recalls Talbot. "I saw Adam coming in to me and I thought 'this guy's flying, I need to get out otherwise he's going to run straight into the back of me'."
At the changeovers it's not just about the athletes keeping their heads when all around them in the stands, and the 9.9 million at home watching on TV, are losing theirs, it's also about finding a level of concentration that enables the receiver to pick out just one voice above all others.
"It can be difficult, when there are other teams involved and the pressure's on and it's very loud in the stadium," admits Talbot. "But for me I think when it really matters and when you really are focused then you do just zone in completely. You get locked in.
"You know someone is coming in very, very fast but you have to trust yourself and think 'yeah, I'm fast too. I'm in the team with these fast guys because we are going to do something special'.
"You run as hard as you can and, when you are that locked in, the only thing you hear is the incoming runner. The only thing that mattered to me was Adam's voice. There's a lot of background but you can't really make sense of it and the only voice I really heard was Adam.
"When he shouted 'hand' my hand was there and the baton was in straight away. The only other person I was then focused on was Nethaneel."
"The only thing that mattered to me was Adam's voice" – Danny Talbot
When Talbot set off, Britain were still in the lead.
"I didn't really know where I was in the race," insists Talbot. "I tried not to focus on other people and I just focused on each step I took. I was really locked in to what I was doing, I saw Nethaneel, I shouted 'hand', his hand appeared and that was it. I had no fears that anyone was going to run past him. It almost became easy."
THE GOLDEN MOMENT
Britain's lead was even clearer by the time the baton reached Mitchell-Blake, but he still had a lot of work to do. America were not far behind in second while third-placed Jamaica had Usain Bolt, competing on a track in a global championships for the very last time, to call on.
His race lasted barely 40 metres, however, as injury struck and it became a straight fight for gold between Britain and the USA.
"The body has an extra level of adrenalin during competition," says Mitchell-Blake of the forces he was trying to harness. "But I focused on staying relaxed."
It worked. The British team clocked 37.47, a European record.
Mitchell-Blake, along with so many others, promptly went a bit berserk.
"That's why you put in the practice, that's why you train," he says. "It's for every sacrifice you make, for every time you don't touch that doughnut. It was perfect."
It got better, too, as the new British gold medal-winning quartet began to take in the adulation, the last line-up from these shores to take a global 4x100m relay title – at the 2004 Olympics in Athens – made themselves known.
"One of the coolest parts about winning that medal was when we were doing our lap of honour. Looking into the crowd you saw Jason Gardener, you saw Marlon Devonish, you saw Darren Campbell and you saw Mark Lewis-Francis," says Mitchell-Blake. "They were all in different areas of the stadium and they were saluting us.
"I felt 'you guys set the foundation, you guys inspired us' and that was a very special moment for me. Seeing Marlon Devonish doing this (makes salute) was pretty cool. He's been there, done this and he was recognising what we'd done.
"The clip of commentary from Mike Costello, where Darren is next to him jumping, it's just a perfect example of the emotion involved in it all, how many people were rooting for us.
"The people I spoke to on the streets … that was the highlight of their championships.
"That type of stuff motivates you to think 'let's go out there and get more success because we're not doing it just for ourselves, we've got a nation behind us'."
They have youth on their side, too, and undoubted potential. Whatever the future brings, however, CJ Ujah, Adam Gemili, Danny Talbot and Nethaneel Mitchell-Blake will always have London.
"We're based all over the world and, when we retire we might not see each other for, say, 10 years but one night we'll meet up and it will be like London was yesterday because we will have so many memories.
"We were probably the only four people who thought we were going to win but we were also probably the only four people who needed to think like that."