Mo Farah is among top world-ranked athletes
A total of 17 British athletes feature in the top 10 in their respective events in the 2017 world merit rankings.
According to statistics published in the latest edition of Athletics Weekly magazine, 17 Britons are ranked in the top 10 on merit this year, which matches the figure for 2016 and is an increase on the 14 in 2015.
Two athletes – Mo Farah and Laura Muir – are ranked in two events.
The December 21 edition of AW is a bumper 88-page special featuring statistics including these rankings based on "merit", which provide particularly interesting reading. Season's bests, championship performances and head-to-heads are all considered, with the rankings meticulously prepared by Peter Matthews and Mel Watman from Athletics International.
As well as Matthews and Watman, the selection panel included Stan Greenberg and Stuart Mazdon (UK), Mirko Jalava (FIN), Alfons Juck (SVK), A Lennart Julin (SWE) and Ed Gordon (USA).
Farah is Britain's sole top world-ranked athlete this year according to the merit lists. The 10-time global gold medallists bows out of his track career with his fifth top ranking at the 10,000m.
He also rates second in the world at 5000m, while Muir also features in two events and is ranked third at 1500m and 10th in the 5000m.
The next highest ranked Britons are Holly Bradshaw, who ranks fourth in the pole vault, and Lorraine Ugen and Katarina Johnson-Thompson, who rank fifth in the long jump and heptathlon respectively.
Ranked sixth are Chijindu Ujah (100m), Robbie Grabarz (high jump), Nick Miller (HT), Dina Asher-Smith (200m) and Morgan Lake (HJ), while Nethaneel Mitchell-Blake in the 200m is among the athletes ranked seventh in their events.
Lynsey Sharp ranks eighth in the 800m, while Sophie Hitchon in the hammer throw and Laura Weightman in the 1500m rank ninth. Muir ranks 10th in the 5000m and also gaining that position in their events are Andrew Butchart (5000m), Andy Pozzi (110m hurdles) and Shara Proctor (LJ).
The latest edition of AW also includes UK merit rankings, compiled by Matthews. Mo Farah tops these rankings in the 5000m, 10,000m and 10 miles – half-marathon, while Callum Hawkins leads the men's marathon rankings.
Although of course well short of marathon standards set in the 1980s, 17 men broke 2:20 and 43 men broke 2:25 (best since 1995), which is up from 15 and 38 in 2016. A 10th best of 2:17:10 was the best since 1997.
The rankings also highlight other events that are flourishing in the UK, such as men's and women's sprints, while statistics identify the changing of the guard in disciplines like the women's javelin and 400m, with Goldie Sayers and Christine Ohuruogu sliding off the lists.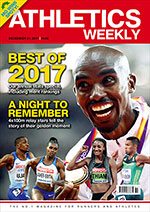 This is just a selection of some of the stats included in the December 21 edition of AW which is available to buy online here, or read digitally here.
» The world merit rankings selection panel consisted of the co-editors of "Athletics International", Peter Matthews and Mel Watman, with Stan Greenberg and Stuart Mazdon (UK), Mirko Jalava (FIN), Alfons Juck (SVK), A Lennart Julin (SWE) and Ed Gordon (USA). The panel assessed the year's records of the leading contenders and the ranking order was determined by consensus. For more information on receiving the Athletics International newsletter email [email protected]