When it comes to the No.1 Olympic sport, AW has been the world's premier source of news, results, features and training advice since 1945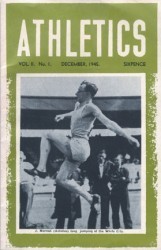 AW has very humble beginnings. The man who invented it – Jimmy Green – initially produced it from his the bedroom of his bungalow in Kent in England. He also told a white lie to get the publication off the ground.
The first issue, which came out in December 1945, was deliberately – and somewhat mischievously – named "Vol II No.1". The reason was that post-war rationing rules banned the launch of new publications. So, inside the issue, the editor and founder Jimmy Green talked about "the resumption of this paper", when of course there had never before been an athletics magazine like it in the UK.
Green died in 1998 aged 88, but he had the satisfaction of seeing his idea grow into something of a national institution. Prior to the launch, friends had warned him that he was "mad" and the idea would never work. "I thanked them for their advice and ignored them. I was pig-headed," Green later said.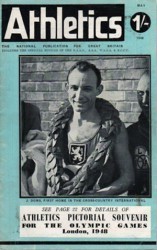 His instincts were correct, because such was the popularity of the product it went from being a monthly magazine called Athletics to a weekly title in 1950. Thereafter, the nickname "AW" was born.
To mark the switch from a monthly magazine to weekly, Green doubled the size of his staff by taking on a typist. Soon after, though, he was joined by a young, athletics-mad journalist called Mel Watman and the duo made a formidable team, causing the sales to soar ever upwards during the subsequent decades.
Green, a keen athlete and official, had recently been demobbed from the RAF when he launched AW, aged 36. With his business sense and Watman's knowledge, writing skills and passion for the international side of the sport, AW established itself as the historian of the sport. Sales grew steadily as the magazine charted the sport's classic moments, such as Roger Bannister's sub-four-minute mile, plus the huge changes such as the switch from cinder to all-weather tracks, growth of women's athletics and of course negative elements such as the advent of performance-enhancing drugs.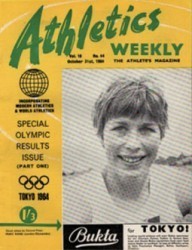 Watman began contributing to AW in 1953, joined the staff in 1961 and edited the title from 1968-1986. He is one of only 10 editors that the magazine has had during its 65-year history and still contributes to the magazine today. Green, meanwhile, is far from forgotten, as he was honoured in late 2010 when England Athletics added him to its Hall of Fame for his contribution to the sport.
The magazine has also had very few owners over the years. Green published the magazine under the name of Kent Art Printers until 1987, when he then sold the title to Emap. The headquarters of AW then moved to Peterborough, north of London.
Emap sold the magazine to Matthew Fraser Moat of Descartes Publishing in 1999 and the magazine remained based in the East Midlands city until 2010, when Richard Hughes bought the magazine and began to publish it under the name of Athletics Weekly Ltd.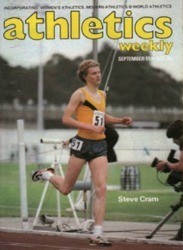 In May 2015, AW was bought by The Great Run Company, helping to secure the future of the publication well into its eighth decade.
The magazine officially became 'AW' in 2019, providing a new look for the print magazine as well as its online channels.
In October 2020, after a COVID-induced hiatus, AW relaunched under new ownership – moving to 21six, which owns a number of companies with a great track record and pedigree in sports publications.
To illustrate its breadth of ambition and widespread support from the athletics community, AW also set up an editorial board consisting of Tim Hutchings, Hannah England, Elliot Giles, Melissa Courtney-Bryant, Dave Moorcroft, Steph Twell, Holly Bradshaw, Hannah Cockroft, Colin Jackson and Sally Gunnell.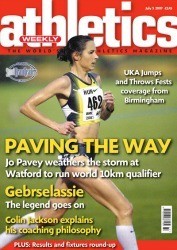 The official HQ of AW is in Hampshire, but the magazine's army of reporters and photographers are more likely to be seen at the coalface – interviewing athletes and coaches. This means AW is pretty much trackside at every major meeting – and a great many minor events too.
Modern technology has allowed this to happen, of course, and it is all a far cry from the days of yesteryear when the photos had to be hand-delivered to the printer and words typed once by the writer and again at the printers.
As recently as 1984, for example, Watman had to rush with his Los Angeles Olympic reports to catch the final delivery back to the UK. He just made it – and when his reports arrived in the UK they all had to be typed in again.
Indeed, it is perhaps the magazine's greatest achievement that it has never failed to hit a weekly deadline, despite postal and rail strikes, power cuts and machine breakdowns – some mean feat in the infamously uncertain world of publishing.
The magazine's raison d'etre has also changed very little over the years, as it continues to be the sport's premier source of news and results and is aimed primarily at committed club athletes.
During that time millions of words have been produced and thousands of photographs printed. Legendary BBC commentator and athletics coach Ron Pickering, for example, once said about AW: "You are my lifeline, my dictionary, Thesaurus and bible." While fellow TV commentator Alan Parry added: "If it hasn't been in AW, it hasn't happened!"
Part of the reason for this is that the magazine has been blessed with many superb contributors over the years. These include Fleet Street scribes such as Cliff Temple and Neil Allen, together with long-time grassroots reporters like Martin Duff and Alastair Aitken. Then there is AW's snapper, Mark Shearman, who took his first front cover image in 1962.
As a result, virtually every top athlete has seen their rise to the top charted in the pages of AW. David Moorcroft first appeared in AW's 'Spotlight on Youth' column in 1971 – a full 11 years before he set the world 5000m record. David Bedford first appeared when he was 73rd in the English Schools' Cross Country Championships in Leicester in 1964.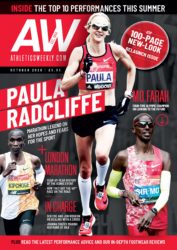 Seb Coe was first mentioned in AW on March 13, 1971, as winner of the colts' race at the Yorkshire Cross Country Championships. Future four-minute miler Bannister first appeared in December 1946 after finishing second as a 17-year-old in the Oxford v Cambridge freshman's mile – he ran a mere 4:53.
And it is not surprising that that many of the eventual medallists at the London Olympic and Paralympic Games had their names printed in the magazine in the run up to 2012, as, no doubt, will the stars of Tokyo 2020 and beyond.
Given this proud history, I'd wager Green still glances down at us from time to time, smiles contentedly and remembers those who called him mad.